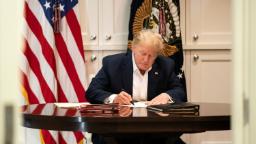 And we know that at least eight people — including Trump and first lady Melania Trump — who attended last Saturday's announcement of Amy Coney Barrett's nomination to the Supreme Court in the Rose Garden have since tested positive.
But beyond that, there are still a LOT of unknowns — questions that the White House either refuses to answer or simply cannot provide good answers on. Below, a list of just some of those questions.
* How sick is Trump, really?
: We don't exactly know. Minutes after White House physician
Sean Conley said on Saturday
that "the President is doing very well," a "source familiar with the President's health" said this: "The President's vitals over the last 24 hours were very concerning and the next 48 hours will be critical in terms of his care. We are still not on a clear path to a full recovery." On Sunday, Conley said that Trump had a "high fever" on Friday morning and was given supplemental oxygen despite his resistance to doing so. "The President has continued to improve," said Conley, and Trump tweeted Monday that he's leaving the hospital after three nights, declaring he is
"feeling really good!"
and that coronavirus is nothing to fear. Here's what we do know about his stay: 1) Trump was having difficulty breathing on Friday and had a high fever 2) He was given supplemental oxygen at the White House 3) he was transported to Walter Reed Friday night 4) He had not required any additional oxygen since arriving at Walter Reed. And we also know that at 74 years old and obese, technically speaking, Trump is at a higher risk of having complications from Covid-19.
* What happens if Barrett isn't confirmed before Election Day?: The preference for the White House and Senate Republicans is to get Barrett on the Court before November 3. But as noted above, that is not a sure thing at the moment. If the votes aren't there before the election, my guess is that Trump and Senate GOPers will try to confirm her in a lame-duck session — meaning one after the election but before the next Congress is sworn in. That's no big deal if Trump wins and Republicans keep control of the Senate. But if Trump loses and Republicans lose control of the Senate in the November election; it's not clear whether McConnell would be able to round up the 50 votes he needs to get Barrett confirmed and, even if he could, how that would play with a public who would watch Republican senators who had lost cast a hugely monumental vote to install a justice on the nation's highest court for life.
* If Trump is discharged, does that mean he is out of the woods?: I am not a doctor (sorry Mom!) but all indications are that if Trump is released by his medical team from Walter Reed that they believe is in out of immediate danger from the virus for now. Conley put it this way: "Though he may not be entirely out of the woods yet, the team and I agree that all our evaluations, and most importantly, his clinical status, support the President's safe return home, where he'll be surrounded by world class medical care."
"We're in a bit of uncharted territory when it comes to a patient that received the therapies he has so early in the course," Conley said on Monday. "So we're looking to this weekend — if we can get through Monday with him remaining the same improvements — better yet, then we will all take that final deep sigh of relief."